Puppies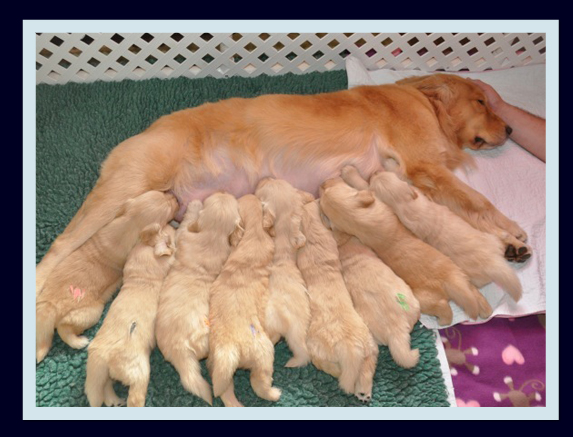 Here at Ruffwater our puppies are born in our bedroom. The pups are not left alone for the first 2 weeks of their life. The pups remain upstairs until they are about 5 weeks old, and then they are moved down to our family room. They are weighed daily, and handled everyday from the time they are born.


The pups are all socialized with many different people, children, cats, dogs, and many different sights, sounds, and textures before they leave us. By 8 weeks they will have walked on carpeting, ceramic tile, concrete, gravel, grass, and weather permitting will be swimming. They will be in the car at least 2x. They are all evaluated for conformation, and are temperament tested. This helps me to determine which puppy will fit best with which family. I don't want a more active puppy going with a quieter family. My goal is to match the puppies with the right family, so everyone is happy.
I like to remain in contact with my puppy families. For the life of your puppy, I am here for questions, training advice, or just to hear cute stories, and to enjoy your photos as your puppy grows. All of our puppies remain family to us, so if life ever throws you a curve, and you can not keep your puppy, we will ALWAYS take him/her back.


The litter is taken to the vet at 8 weeks, and will have their first DHPP vaccine. They will be wormed several times by 8 weeks old. All pet puppies are sold on limited registration, and a spay/neuter contract. Ruffwater will not sell puppies out of the country, or to pet stores or brokers. A deposit of $300 is asked for at the time the pups are born. We like to remain in contact with our puppy families, and are always available for questions.
If you would like to be considered for one of our puppies, please fill out our puppy application. I like to meet the families who are interested in our puppies, and love for you to meet us, and our dogs.